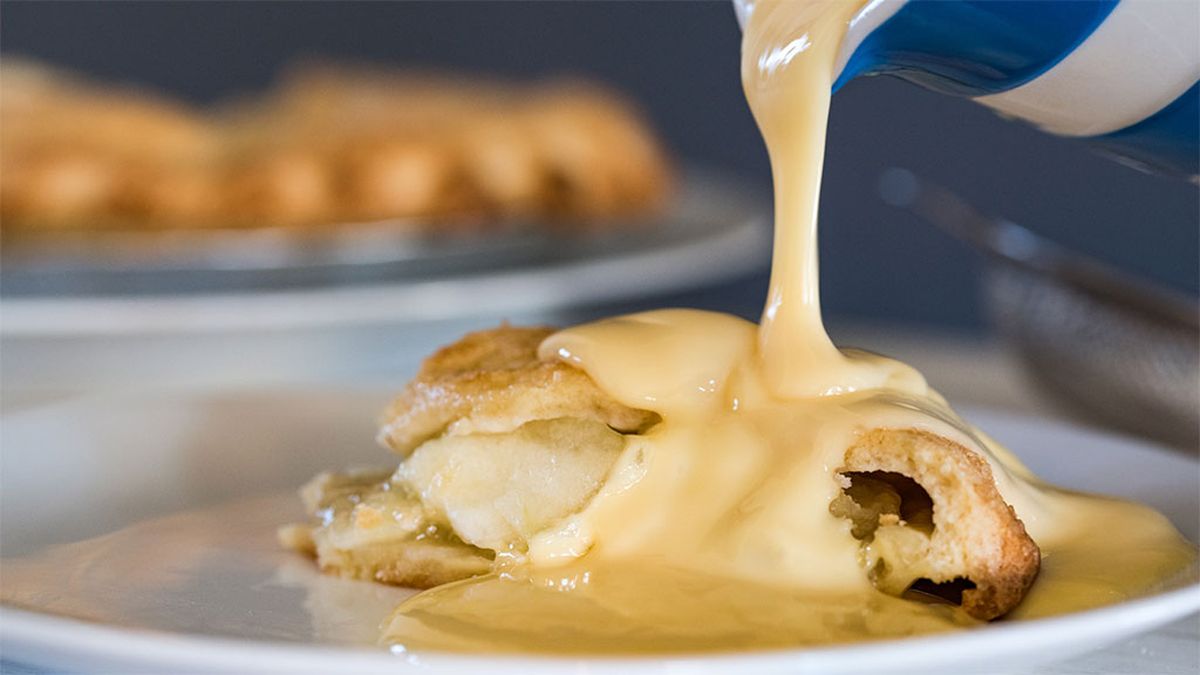 Roxanne Fisher Editor of bbcgoodfood.com asks is it always worth making your favourites from scratch and puts shop-bought and homemade custard to the test.
Also the team at Good Housekeeping Institute tried and tested nine shop-bought fresh custards to find one rich and creamy enough to impress.
Why do so few of us make custard from scratch at home? Convenience, cost, taste?
Once you've cracked your own technique for silky smooth vanilla custard, you'll never go back to shop bought especially for that special occasion.
Custard DIY Costs
Buying all the ingredients for the homemade custard was considerably more expensive than the cost of the supermarket own brand. However, it made double the quantity and there were plenty of leftover ingredients.
Shop Bought Custard
Cost of shop-bought custard:
Supermarket own brand – £2 (serves 4)
Homemade Custard
Cost of ingredients for homemade custard:
Ingredients for the homemade – £5 (serves 8)
BBC Good Food Custard Recipe
The custard recipe Roxanne used was Homemade custard from BBCgoodfood. For convenience I've listed it underneath the video which shows you how easy making custard is.
If you need it here's a video of four simple and cool ways to separate eggs.
The steps on this recipe are great as it tells you exactly when your custard is at pouring point. The whole process was so simple, and it seemed to be ready much sooner than the suggested 25 minutes. There were loads left over so we popped it in the freezer for another time.
Ingredients
200ml double cream
700ml whole milk
4 large egg yolks
3 tbsp cornflour
200g caster sugar
1 tsp vanilla extract
Method
Put the cream and milk into a large pan and gently bring to just below boiling point. Meanwhile, in a large bowl, whisk the yolks, cornflour, sugar and vanilla. Gradually pour the hot milk mixture onto the sugar mixture, whisking constantly.
Wipe out the saucepan and pour the mixture back into it. Heat gently, stirring with a wooden spoon until the custard is thickened, but before any lumps form. Eat hot or cold.
The custard taste test
The vanilla flavour in the homemade custard really came to the fore, and when tasted alongside the shop bought the difference in flavour and depth was really noticeable. The texture of the homemade was also superior, thick and silky smooth opposed to the shop-bought's slightly artificial quality.
The only complaint about the homemade was that it was possibly a little sweet. Not a problem if you have an insatiable sweet tooth, but I would consider experimenting with less caster sugar next time to get a balance to appeal to everyone.
The verdict
While making your own might not save you money, shop-bought is no match for the indulgent taste and full flavour of the recipe we used. It also made twice as much as the shop-bought provided, meaning we have some in the freezer for the next pudding.
Before I wouldn't have thought twice about buying ready-made custard but the stark difference in taste (and examination of the added colours and flavourings in the shop-bought) has converted our household. My only hesitation is the high calorie and fat content in this recipe. Fine as a treat, but I'll be exploring lower-fat options so we can enjoy this more often.
Which Shop-bought Custard
Which store-bought custard is worth drizzling on your pud?
The team at the Good Housekeeping Institute tried and tested nine fresh custards to find one rich and creamy enough to impress. Here's a summary of their findings. (26/09/2018)
The Lidl Deluxe Madagascan Vanilla custard came second in the test but was practically half the price of the others in the top three.
The Tesco product came mid-table – creaminess was good but it lacked any vanilla taste.
Bottom of the pile and the cheapest product of them all was the Ambrosia Deluxe Custard – more like white chocolate than custard and lacked a fresh flavour.
1. Asda Extra Special Madagascan Vanilla Custard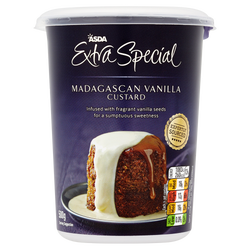 Score: 81/100
A creamy-yellow custard with decadent flecks of vanilla beans. Rich smelling with a slight creaminess and a deep vanilla-paste like aroma. Testers loved the fresh taste and deep creaminess from the double cream. The vanilla flavour is wonderfully balanced and the sweetness isn't overpowering. Smooth with a light thickness for the perfect pouring consistency.
Price: £1.85
2. Lidl Deluxe Madagascan Vanilla Custard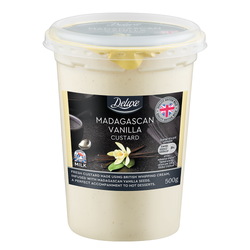 Score: 78/100
Flecks of vanilla seeds add richness to this pastel yellow custard. We loved its condensed milk like aroma with sweet milky notes and a strong hit of vanilla. Gorgeously creamy, the custard has a deep vanilla taste and a heavy sweetness which some found slightly overpowering. Testers also picked up on a slight synthetic note. Medium-thick, it is ideal for drizzling over a hot pud.
Price: £0.99
3. M&S Dessert Menu The Collection Thick & Creamy Madagascan Vanilla Custard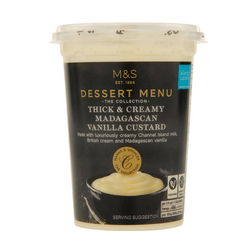 Score: 78/100
Lusciously thick for the perfect dollop over pudding, this custard impressed testers with its indulgence. Tremendously creamy in taste with a rich yolky scent for a fresh, old-fashioned appeal. It had a measured sweetness but was a little too gentle in vanilla taste for our panel.
Price: £2.40
4. Sainsburys Taste The Difference Madagascan Vanilla Custard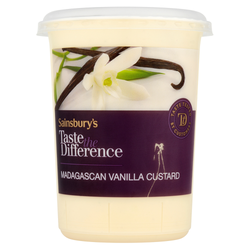 Score: 73/100
Pleasantly creamy with a subtle smell of vanilla and milk. Sweet to taste with a lovely lactic creaminess, we enjoyed the natural vanilla flavour from the pods but also picked up on a slight synthetic taste. Though smooth, the custard is too thin for our liking.
Price: £2.00
5. Tesco Finest Cornish Custard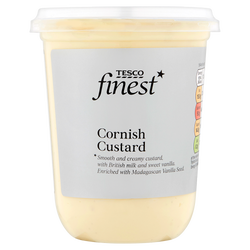 Score: 68/100
So decadently thick, this custard was likened to crème pat. This Cornish custard has a candied-caramelised sweet taste much like crème brûlée which gave it an enticing biscuitty, burnt-caramel aroma. We loved its creaminess but found it lacked any vanilla taste.
Price: £2.00
6. Waitrose Madagascan Vanilla Custard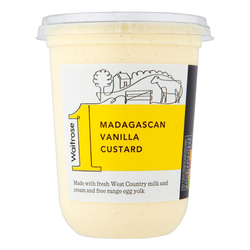 Score: 67/100
Testers were able to pick out a very gentle yet rich eggy scent with a touch of vanilla. That said, it is beautifully creamy on the palate with a fresh egg flavour and a natural vanilla taste. The custard has a velvety smooth texture but was a little too thick for some.
Price: £2.15
7. Country Puddings Creamy Vanilla Custard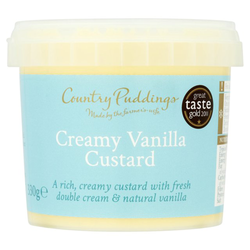 Score: 67/100
This bright yolky-yellow custard has a subtly sweet milky aroma with delicate vanilla notes. Although a little bland, testers enjoyed the slight sweetness and hints of vanilla but wanted a stronger flavour and felt the custard had artificial undertones. A fairly nice, medium consistency but with a slightly powdery quality to the texture.
Price: £1.80
8. Morrisons The Best Madagascan Vanilla Custard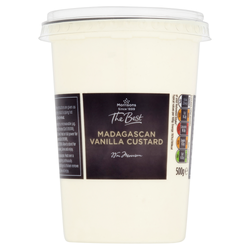 Score: 62/100
A rich creamy-white custard with a gently sweet milky aroma and a lovely hit of vanilla. Unfortunately the custard wasn't as flavoursome, lacking an obvious vanilla taste and with misplaced savoury notes. It was, however, deliciously creamy, but our panel felt the custard should have been richer and thicker in texture.
Price: £1.90
9. Ambrosia Deluxe Custard Vanilla with West Country Cream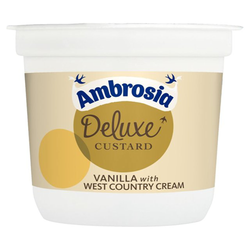 Score: 57/100
A vibrant lemon yellow, this custard wasn't as natural looking as the vanilla-bean-flecked others. Overpoweringly sweet, our panel felt it was more like white chocolate than custard. It lacked a fresh flavour and eggy taste and we wanted more of a natural vanilla flavour. Most, however, loved the thickness.
Price: £0.65