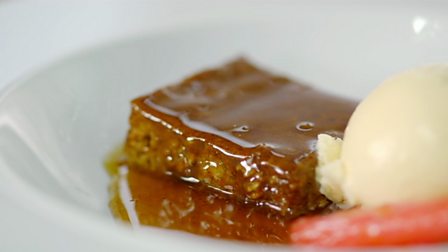 There are a few elements to this recipe but every one of them would benefit from being prepared in advance so it's a great one for feeding a crowd.
Ingredients
For the parkin

150g/5½oz soft light brown sugar
150g/5½oz softened butter, plus extra for greasing
250g/9oz golden syrup
75g/2½oz black treacle
125g/4½oz oat flakes
175g/6oz self-raising flour
3 tbsp ground ginger
1 tsp ground nutmeg
1 tsp mixed spice
pinch of salt
2 free-range eggs, beaten
25ml/1fl oz milk
vanilla ice cream, to serve

For the rhubarb

50g/1¾oz butter
75g/2½oz caster sugar
1 orange, zest only
4 sticks rhubarb, cut into 5cm/2in lengths

For the syrup

200g/7oz golden syrup
100ml/3½fl oz dry cider
½ tsp ground mixed spice
½ tsp ground ginger
¼ tsp ground nutmeg
Preparation method
Preheat the oven to 140C/275F/Gas 1 and butter a 30cm/12in x 20cm/8in cake tin.

For the parkin, put the soft brown sugar, butter, syrup and treacle into a small saucepan and melt over a gentle heat.

Put the oats, flour, ginger, nutmeg, mixed spice and a pinch of salt into a large bowl, then add the eggs and milk. Pour the melted butter and sugar mixture into the bowl and mix together with a whisk until combined.

Pour into the prepared tin and bake for 1¼ hours, or until firm in the centre.

Remove from the oven and leave in the tin to cool before turning out and cutting into squares. This is best kept kept in a tin for 2-3 days as it will become really sticky all the way through.

For the rhubarb, put the butter, sugar and five tablespoons of water in a large frying pan with the orange zest and rhubarb. Place over a gentle heat to poach for 4-5 minutes, or until just tender, then remove from the heat.

For the syrup, combine the golden syrup, cider and spices in a saucepan and bring to the boil. Reduce the heat and cook for 3-4 minutes, or until just thickened.

Serve the parkin in squares with a spoonful of rhubarb to one side and the syrup over the top. Finish with a scoop of ice cream.
Less than 30 mins

preparation time
1 to 2 hours

cooking time
Serves 8