[col type="three-fourth"]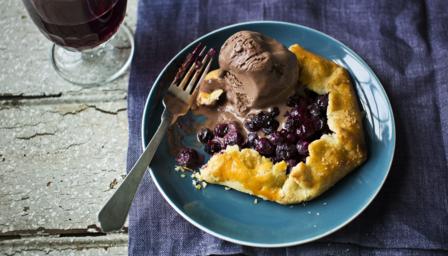 These galettes are great for entertaining – serve with ready-made vanilla ice cream if you don't want to make your own.
Equipment and preparation: for this recipe you will need an ice cream maker.
Ingredients
For the instant chocolate ice cream

300ml/10½fl oz full-fat milk
200ml/7fl oz double cream
75g/2½oz caster sugar
6 free-range egg yolks
3 chocolate and peanut bars, chopped

For the galettes

200g/7oz plain flour, plus extra for dusting
150g/5½oz unsalted butter, chopped
75g/2½oz caster sugar
2 free-range egg yolks
400g/14oz fresh blueberries
1 vanilla pod, split in half lengthways, seeds scraped out
2 tbsp cornflour
1 lemon, juice only
2 tbsp demerara sugar
Preparation method
For the instant chocolate ice cream, heat the milk and cream in a saucepan until just simmering. Whisk the caster sugar and egg yolks together in a bowl until pale and fluffy.

Slowly pour the warm cream mixture onto the egg mixture, whisking continuously.

Return the mixture to the saucepan and continue to cook over a low heat, whisking continuously, until it thickens enough to coat the back of a spoon. Add the chopped chocolate bars and stir until melted. Set aside to cool, then chill in the fridge.

Transfer the chilled custard to an ice cream machine and churn until frozen, then freeze until needed in an airtight container.

For the galettes, in a bowl, rub together the flour, butter and 25g/1oz of the caster sugar using your fingertips, until the mixture resembles breadcrumbs.

Add one of the egg yolks and stir the mixture until it comes together as a dough. Turn the dough out onto a lightly floured work surface and knead until smooth. Flatten the dough to a 2cm/1in-thick disc, then wrap in cling film and chill in the fridge for 30 minutes.

Meanwhile, in a bowl, stir together the blueberries, vanilla seeds, cornflour, lemon juice and the remaining caster sugar. Set aside.

Roll the chilled pastry out on a lightly floured surface to a thickness of 5mm/¼in. Cut eight 12cm/5in discs from the pastry and place them onto a baking tray lined with baking parchment. Pinch or fold the edges of each pastry disc to create pastry cases, then brush all over with the remaining egg yolk. Spoon in the blueberries and sprinkle over the demerara sugar. Chill in the fridge for 30 minutes.

Preheat the oven to 200C/180C Fan/Gas 6.

Bake the galettes in the oven for 20-25 minutes, or until crisp and golden-brown.

To serve, place the warm galettes on serving plates and place a scoop of ice cream on top of each.
[/col][col type="one-fourth last"]
1-2 hours

preparation time
30 mins to 1 hour

cooking time
Serves 8
[/col]