[col type="three-fourth"]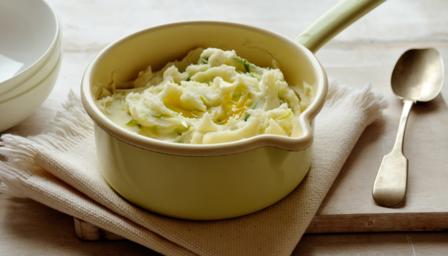 Looking for an easy mashed potato recipe? James Martin's creamy champ is perfect with sausages or pork chops.
Ingredients
1.35kg/3lb potatoes, well scrubbed and left whole in their jackets
290ml/½ pint milk
85g/3oz butter
salt and white pepper
1 large bunch spring onions, finely chopped
Preparation method
Boil the potatoes in salted water until soft. Drain and remove from the pan. Leave until just cool enough to peel. Mash thoroughly.

Boil the milk and add to the potato, together with the spring onions.

Season and stir well.

Pile into a serving dish.

Make a well in the centre and add the butter. Serve immediately.
[/col][col type="one-fourth last"]
Less than 30 mins

preparation time
10 to 30 mins

cooking time
Serves 6-8
[/col]