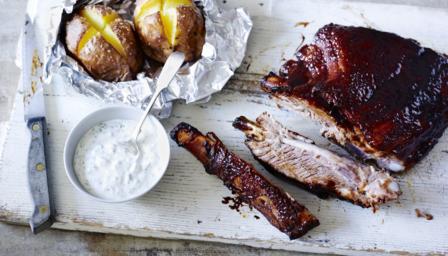 This easy recipe for sticky ribs with fluffy jacket potatoes is American comfort food at its best. Serve with coleslaw, green salad and onion rings.
Ingredients
For the ribs

2 racks pork spare ribs
1 tsp black peppercorns
3 bay leaves
small bunch flatleaf parsley
1 onion, roughly chopped
1 carrot, cut into chunks

For the baked potato

4 large baking potatoes
1 tbsp olive oil
1 tsp sea salt flakes
250ml/9fl oz soured cream
4 tbsp finely chopped curly parsley

For the sauce

175g/6oz tomato ketchup
150g/5oz chipotle chilli ketchup
100ml/3½fl oz dark soy sauce
175g/6oz dark muscovado sugar
4 tbsp teriyaki sauce
Preparation method
For the ribs, place the ribs in a large saucepan with the peppercorns, bay leaves, parsley, onion and carrot. Cover with water, bring to the boil, then reduce to a simmer and cook for 1½ hours.

Meanwhile, preheat the oven to 200C/400F/Gas 6.

For the baked potato, pierce the potato a couple of times with a fork, then rub with the olive oil and salt.

Bake on the top shelf of the oven for one hour, or until cooked through.

For the sauce, put all of the ingredients into a saucepan and bring to a simmer.

Remove the ribs from the water, dip them into the sauce and place onto a roasting tray.

Bake in the oven for 20-30 minutes, basting with more of the sauce after 10 minutes.

To serve, pile the ribs onto a serving plate. Split the potatoes in half and top with a dollop of soured cream and a little chopped parsley.
Less than 30 mins

preparation time
1 to 2 hours

cooking time
Serves 4