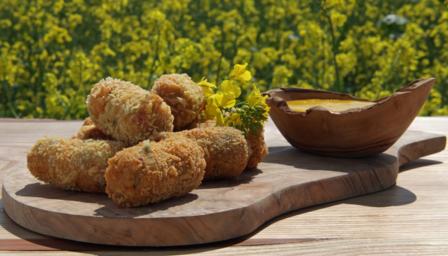 Try serving these crisp ham croquettes as a party snack or as part of a tapas menu.
Ingredients
75g/2½oz butter
200g/7oz plain flour
500ml/18fl oz milk
salt and freshly ground black pepper
75g/2½oz fresh breadcrumbs
100g/3½oz ham, chopped
50g/2oz serrano ham, chopped
1 small bunch fresh parsley, chopped
75g/2½oz plain flour
2 free-range eggs, beaten
100g/3½oz panko Japanese breadcrumbs
rapeseed oil, for deep frying

For the mayonnaise

3 free-range egg yolks
1-2 tsp English mustard
100ml/3½fl oz rapeseed oil
1 tbsp white wine vinegar
½ tsp crushed garlic (approximately 1 small clove)
salt and freshly ground black pepper
Preparation method
Melt the butter in a large saucepan, then whisk in the flour and cook for 2-3 minutes. Whisk in the milk slowly until you have a very thick sauce. Season with salt and pepper.

Stir in the breadcrumbs, both hams and parsley. Place in the fridge to chill for 3-4 hours.

Shape the chilled mixture into 7cm/2¾in cylinders. Place the flour, beaten eggs and breadcrumbs in three separate bowls. Coat each one in the flour, then egg and finish with a layer of breadcrumbs.

Add the oil into a deep-fat fryer and preheat to 170C/338F. (Caution: Do not leave hot oil unattended.)

Deep fry the croquetas in batches until golden-brown. Remove and drain on kitchen paper.

To make the mayonnaise, whisk the egg yolks with the mustard in a bowl and then very slowly and gradually add the oil, whisking continuously. Stir through the vinegar and garlic, then season with salt and pepper.

Serve the croquetas on a board with a bowl of mayonnaise for dipping.
Over 2 hours

preparation time
30 mins to 1 hour

cooking time
Serves 4-6