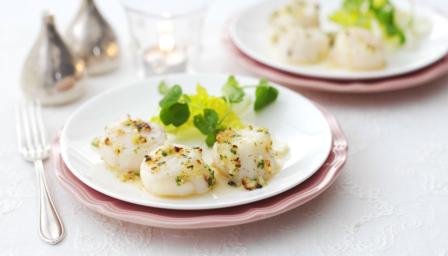 These scallops, delicately flavoured with fresh herbs, lemon zest and rich hazelnuts, take less than ten minutes to cook.
Ingredients
For the scallops

1 tsp olive oil
1 shallot, peeled, finely sliced
75g/2½oz butter, softened
½ lemon, zest only
1 tbsp finely chopped fresh chervil
1 tbsp finely chopped fresh chives
45g/1½oz hazelnuts, finely chopped
salt and freshly ground black pepper
6 scallops, cleaned

For the salad

½ tbsp wholegrain mustard
½ tbsp good quality white wine vinegar
1½ tbsp good quality rapeseed oil
1 Little Gem lettuce, leaves separated
1 punnet pea shoots
Preparation method
For the scallops, heat a frying pan until warm, add the olive oil and shallot and fry gently until softened but not coloured.

Place the butter into a bowl and add the cooked shallot, along with all the remaining scallop ingredients, except the scallops. Season, to taste, with salt and freshly ground black pepper and mix well.

Preheat the grill to high.

Place the scallops onto a grill tray and top each scallop with a spoonful of the hazelnut butter. Place under the grill for 3-4 minutes, or until just cooked through. Remove from the grill and set aside to rest for one minute.

For the salad, whisk the mustard, vinegar and oil together in a bowl. Place the lettuce leaves and pea shoots into a bowl, drizzle over the dressing and stir to coat.

To serve, place three scallops onto each of 2 serving plates and serve with a pile of salad.
Less than 30 mins

preparation time
10 to 30 mins

cooking time
Serves 2