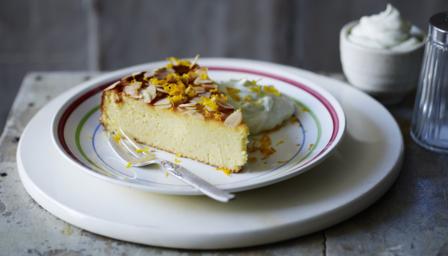 This orange cake is deliciously moist. Serve it with a dollop of basil cream for a tasty dessert.
Ingredients
2 oranges
225g/8oz caster sugar
6 free-range eggs
250g/9oz ground almonds
4 tbsp flaked almonds
50g/2oz basil leaves
50ml/2fl oz water
50g/2oz caster sugar
150ml/5floz double cream, lightly whipped
1 vanilla pod, split and seeds scraped
Preparation method
Preheat the oven to 180C/350F/Gas 4. Grease a 23cm/9in springform cake tin.

Simmer the oranges in a saucepan of simmering water for 45-60 minutes, or until very soft. Remove the pan from the heat and leave the oranges to cool in the water.

Drain the oranges and roughly chop, discarding the pips.

Blend 450g/1lb of chopped orange in a food processor to a purée. Add the sugar, eggs and ground almonds and blend until smooth.

Spoon the mixture into the cake tin and sprinkle over the flaked almonds.

Bake in the oven for 25 minutes, then cover loosely with aluminium foil and bake for a further 25-35 minutes, or until cooked through (a skewer inserted in the middle should come out clean). Remove from the oven and set aside to cool.

Meanwhile, heat the basil, water and sugar in a saucepan until boiling, then simmer for two minutes. Blend the mixture in a blender until smooth, then pass through a fine sieve. Set aside to cool.

Whisk the double cream and vanilla seeds together in a bowl until soft peaks form, then fold in basil syrup.

Serve slices of the cake with a dollop of basil cream.
Less than 30 mins

preparation time
30 mins to 1 hour

cooking time
Makes 1 cake