[col type="three-fourth"]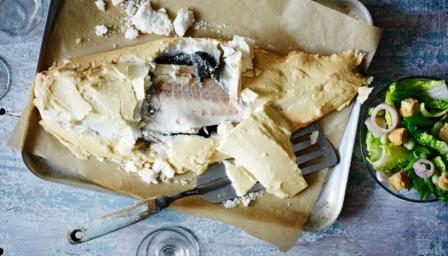 Sea bass baked in salt crust makes for beautifully moist fish. Serve it with a simple summery salad.
Ingredients
For the sea bass

1 x 1.5kg/3lb 5oz sea bass
bunch fresh thyme
4 free-range egg whites
300g/11oz sea salt

For the salad

400g/14oz runner beans, thickly sliced diagonally
4 tbsp chopped fresh flatleaf parsley
2 banana shallots, sliced into rings
200g/7oz cooked broad beans
2 Little Gem lettuces, leaves separated
50g/2oz croûtons
1 tsp English mustard
1 tbsp red wine vinegar
squeeze lemon juice
3 tbsp olive oil
pinch sugar
Preparation method
For the sea bass, preheat the oven to 200C/400F/Gas 6.

Stuff the thyme into the cavity of the sea bass.

Whisk the egg whites in a bowl until soft peaks form, then fold in the salt.

Line a baking tray with greaseproof paper and spread one-third of the egg white mixture over the tray. Lay the sea bass on top and spoon over the remaining egg white mixture, ensuring the fish is completely covered.

Bake the sea bass in the oven for 30-35 minutes, or until crisp. Carefully crack the salt crust, remove it from the fish and discard. Peel the skin from the fish and place it onto a serving plate.

Meanwhile, for the salad, blanch the runner beans in a pan of boiling water for 1-2 minutes, or until just tender. Drain and refresh in iced water, then drain thoroughly.

Mix the runner beans, parsley, shallots, broad beans, lettuce and croûtons in a bowl until well combined.

Whisk the mustard, vinegar, lemon juice and olive oil together until well combined, then season with a pinch of sugar, salt and freshly ground black pepper.

Pour a little dressing over the salad and mix until well combined.

Spoon the salad onto a serving plate and serve alongside the fish.
[/col][col type="one-fourth last"]
Less than 30 mins

preparation time
30 mins to 1 hour

cooking time
Serves 4
[/col]