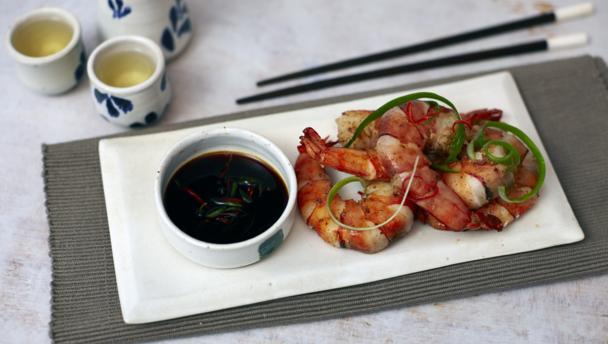 Preparation time
less than 30 mins
Cooking time
10 to 30 mins
There is a restaurant near me which serves the most enticing Chinese food. I have become a bit of a regular there due to my addiction to their salt and pepper squid. I decided I must take inspiration from this marvelled culinary eating establishment and make my own, slightly healthier version and this is the result. It has fast become the number one most requested fish dish in my family now.

By Lorraine Pascale
From Lorraine Pascale: How to be a Better Cook
Ingredients
For the garnish
1 small spring onion
1 small red chilli
For the sauce
5 tbsp mirin
4 tbsp dark soy sauce
1 tsp soft light brown sugar
1 red chilli, (seeds removed if you prefer it slightly less hot), finely sliced
1 green chilli, (seeds removed if you prefer it slightly less hot), finely sliced
For the prawns
½ tsp Sichuan pepper seeds
flaked sea salt
2 tsp five-spice powder
40 raw, peeled tiger prawns, deveined
1 tsp sunflower oil
Method
First prepare the garnishes. Cut the spring onion in half across and then cut each piece into really thin lengthwise strips. Pop them into a small bowl of iced water, cover and sit in the freezer until ready to serve. Halve the chilli lengthwise, deseed and then slice it into long, thin strips. Again pop into a bowl of iced water and keep covered in the freezer until serving.
To make the sauce, simply stir everything together in a small bowl. Pour into a serving bowl and set aside.
Now for the prawns. Using a pestle and mortar, grind up the Sichuan pepper with a pinch of salt until fairly smooth. Tip this mixture into a small, dry wok, add the five spice and toast over a low to medium heat for 1-2 minutes or so, stirring regularly until you start to smell the spices. Tip the spices into a bowl and toss the prawns through to coat evenly.
Return the wok to a high heat and add the oil. Stir fry the spice coated prawns for two minutes until pink throughout. Sit the bowl of dipping sauce on one side of a serving plate (for sharing) and spoon the prawns beside. Drain the spring onion and chilli garnishes from the iced water. They should now have curled nicely and so scatter them over the prawns to garnish and serve at once.