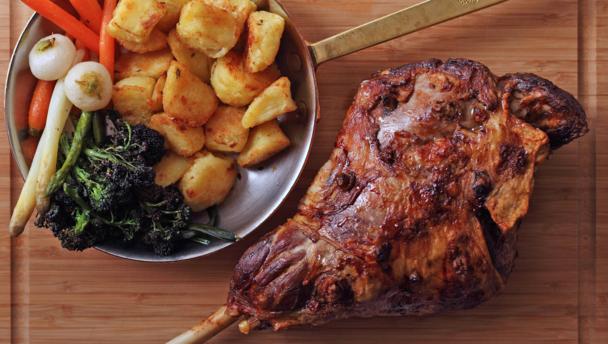 Preparation time
less than 30 mins
Cooking time
1 to 2 hours
Easter roast lamb is a tradition in many homes, so give it the Michel Roux Jr treatment and make it really special.

By Michel Roux Jr.
From Good Food Friday with Michel Roux Jr and Olly Smith
Ingredients
2kg/4lb 8oz leg of lamb on the bone
6 garlic cloves, quartered
8 anchovies, halved
salt and freshly ground black pepper
1 tsp olive oil
2 onions, roughly chopped
3 carrots, roughly chopped
4 sticks celery, roughly chopped
1 bay leaf
sprig thyme
200ml/7fl oz white wine
500ml/18fl oz lamb or chicken stock
1 tbsp mint-flavoured vinegar
100g/3½oz butter
½ bunch chopped mint
Method
Preheat the oven to 210C/190C Fan/Gas 6.
Make small incisions all over the lamb and stud each with a piece of garlic or anchovy. Season the leg well with salt and freshly ground black pepper.
Heat a large pan over a high heat, add 1 tsp olive oil and fry the leg of lamb until browned all over.
Put the chopped onions, carrots, celery, bay leaf and thyme into a roasting tray. Place the browned lamb on top.
Deglaze the pan in which the lamb was cooked with a splash of water, scraping up all the browned bits, and pour in the roasting tray. Roast in the oven for about an hour (the internal temperature will be 55C for rare and 60-65 for medium).
When cooked to your liking, remove the lamb from the oven, cover with foil and set aside in a warm place.
Place the roasting tray on the hob and heat until the juices are bubbling or the pan is hot. Add the white wine and simmer until the volume of the liquid is reduced by two-thirds. Add the stock simmer until reduced by half.
Strain the sauce through a sieve into a clean pan. Add the mint vinegar and whisk in the butter until it is completely melted and the sauce is velvety. Finish with chopped mint. Transfer to a warmed jug to serve.
Carve the lamb into slices, and serve with roast potatoes and seasonal vegetables.