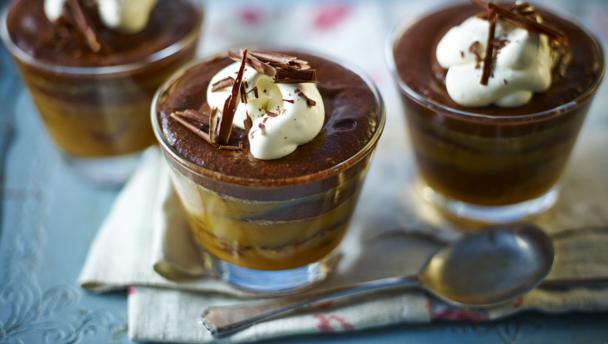 Preparation time
1-2 hours
Cooking time
10 to 30 mins
Chocolate mousse is very easy to make and this version only needs an hour to chill before serving. This recipe comes from the chef's mother.

By Michel Roux Jr.
From Food & Drink
Ingredients
For the salted caramel sauce
100g/3½oz granulated sugar
2 tbsp golden syrup
30g/1oz unsalted butter
80ml/2¾fl oz double cream
½ tsp sea salt
For the mousse
330g/11½oz dark chocolate (55-70% cocoa solids), chopped into small pieces
30g/1oz unsalted butter
8 free-range eggs, separated
1 tbsp caster sugar
whipped double cream, to serve
Method
For the salted caramel sauce, place the sugar, two tablespoons water and golden syrup in a saucepan and bring to a boil, stirring occasionally. When the sugar has turned a rich amber colour, remove from the heat and stir in the butter, cream and salt. Pour into a bowl, cover the surface with clingfilm and cool completely.
For the mousse, melt the chocolate and butter in a bowl set over a pan of simmering water – ensuring that the bottom of the bowl does not touch the water. Set aside to cool a little. Then whisk the egg yolks into the cooled chocolate mixture.
In a separate bowl, whisk the egg whites to a light foam then add the caster sugar and whisk again until soft peaks form when the whisk is removed. Stir a third of the egg whites into the chocolate mixture. Then carefully fold in the remaining egg whites until well incorporated.
Pour a tablespoon of salted caramel sauce into the bottom of each serving glass. Top with one-third of the mousse mixture. Drizzle over enough sauce to cover the mousse. Repeat this layering with mousse and caramel, finishing with a final layer of mousse. Refrigerate for an hour before serving. If chilled for longer, remove 30 minutes before serving. Finish with a dollop of whipped cream.
Recipe Tips
Chocolate can be tricky and sometimes seizes when temperatures change quickly, so it's always best to use eggs at room temperature.
Any leftover sauce will keep for a few days in the fridge and is delicious drizzled over all sorts of desserts including ice cream, chocolate brownies and apple pie.
Recommended wine
Try Fernando de Castilla, Antique Pedro Ximenez