[col type="three-fourth"]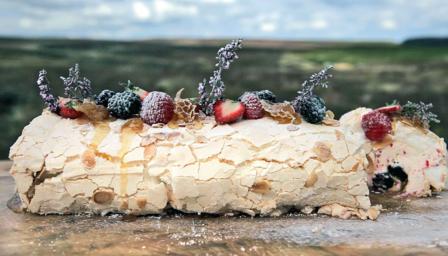 Rolling a roulade can be tricky but, have no fear, a generous dusting of icing sugar will cover up any imperfections.
Equipment and preparation: for this recipe you will need a 23x33cm/9x13in Swiss roll tin.
Ingredients
5 free-range egg whites
275g/9¾oz caster sugar, plus extra for dusting
50g/1¾oz flaked almonds

For the filling

600ml/20fl oz double cream
100g/3½oz raspberries
2 tbsp heather honey

For the garnish

50g/1¾oz strawberries, cut in half
50g/1¾oz blackberries
50g/1¾oz raspberries
1 tbsp heather honey
sprigs of heather, to decorate (optional)
icing sugar, for dusting
Preparation method
Preheat the oven to 180C/350F/Gas 4 and line a 23x33cm/9x13in Swiss roll tin with baking parchment.

In a large bowl, whisk the egg whites using an electric hand whisk until stiff peaks form when the whisk is removed. Gradually add the sugar, a spoonful at a time. Whisk until very stiff and glossy and all the sugar has been added.

Spoon the mixture into the prepared tin and smooth the surface. Sprinkle with almonds. Place the tin in the preheated oven and bake for eight minutes, or until golden-brown. Lower the temperature to 160C/325F/Gas 3 and bake for a further 15 minutes, or until crisp.

Remove from the oven and turn out, almond-side down, onto a sheet of non-stick baking paper dusted with caster sugar. Remove the baking parchment from the base of the cooked meringue and allow to cool.

For the filling, put the cream and raspberries in a bowl and lightly whip. Spread evenly over the meringue and spoon over the heather honey and most of the blackberries and strawberries. Starting at the long end, roll up the meringue using the paper to help you.

Decorate the top of the roulade with the reserved berries, heather honey, sprigs of heather (if using) and a dusting of icing sugar.
[/col][col type="one-fourth last"]
Less than 30 mins

preparation time
30 mins to 1 hour

cooking time
Serves 6-8
[/col]