[col type="three-fourth"]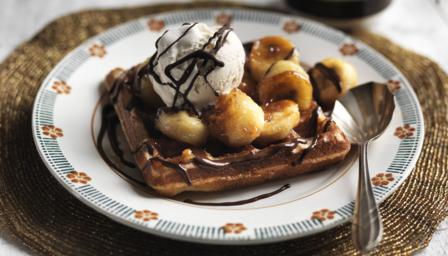 Someone very special deserves these waffles, loaded with fried bananas, chocolate sauce and ice cream. It's probably you.
Equipment: You will need a waffle maker.
Ingredients
For the waffles

260g/9½oz plain flour
1 tbsp baking powder
1 tsp sea salt flakes
1 tbsp granulated sugar
3 free-range eggs, lightly beaten
425ml/15fl oz full-fat milk
110g/4oz unsalted butter, melted

For the chocolate sauce

175g/6¼oz plain chocolate, broken into pieces
50g/1¾oz caster sugar

For the fried bananas

4 bananas, peeled and halved lengthways
50g/2oz butter
50g/2oz caster sugar
4 scoops vanilla ice cream, to serve
Preparation method
For the waffles, preheat a waffle maker to a medium setting and preheat the oven to 140C/275F/Gas 1. Place a large wire rack onto a baking tray and keep it warm.

Mix the flour, baking powder, salt and granulated sugar in a large mixing bowl. Whisk in the eggs, milk and butter until well combined.

Ladle some of the batter into each well of the waffle maker, close the lid and cook for five minutes, or until golden-brown and crisp. Repeat the process until the batter is used up. Keep the waffles warm on the baking tray in the oven.

For the hot chocolate sauce, melt the chocolate in a bowl set over a pan of simmering water (ensure the bottom of the bowl does not touch the water).

In another pan, heat the sugar and 100ml/3½oz water, stirring until the sugar dissolves. Bring to the boil.

Stir the sugar syrup into the chocolate until smooth and shiny.

For the fried bananas, heat a frying pan until hot, then melt together the butter and sugar.

Add the bananas and fry for 1-2 minutes on each side, or until golden-brown all over.

Place the waffles on a plate and top with chocolate sauce and serve the bananas and ice cream on the side.
Top recipe tip
If you don't have a waffle maker, you could always buy ready-made waffles to serve with the chocolate sauce, bananas and ice cream.
Required techniques
[/col][col type="one-fourth last"]
Less than 30 mins

preparation time
10 to 30 mins

cooking time
Serves 4
[/col]